China Artificial Quartz Stone Slabs suppliers
China Artificial Quartz Stone Slabs manufacturers
Factory Direct Sales Artificial Quartz Stone Slabs
1. Product introduction of Artificial Quartz Stone Slabs (QSY-161)
MINGSHANG NEW MATERIAL Factory is an ISO 9001:2000 certified manufacturer of Artificial Quartz Stone Slabs and we are committed to providing exceptional service by using today's innovations to produce the highest quality products in a safe and efficient environment. Artificial Quartz Stone Slabs uses natural quartz as the main raw material, its content reaches 90%--93%, retains the noble quality of natural stone, and has high hardness, scratch resistance, stain resistance, antibacterial and mildew resistance, easy to clean, safe and no radiation and other characteristics; its series is divided into Calacatta series, Carrara series, pure color series, crystal series, granite series, Galaxy series. Whether it is commercial space, public area or private residence, whether it is minimalist design, original personality or classical style, you can find our quartz stone, terrazzo, natural stone and other stone products.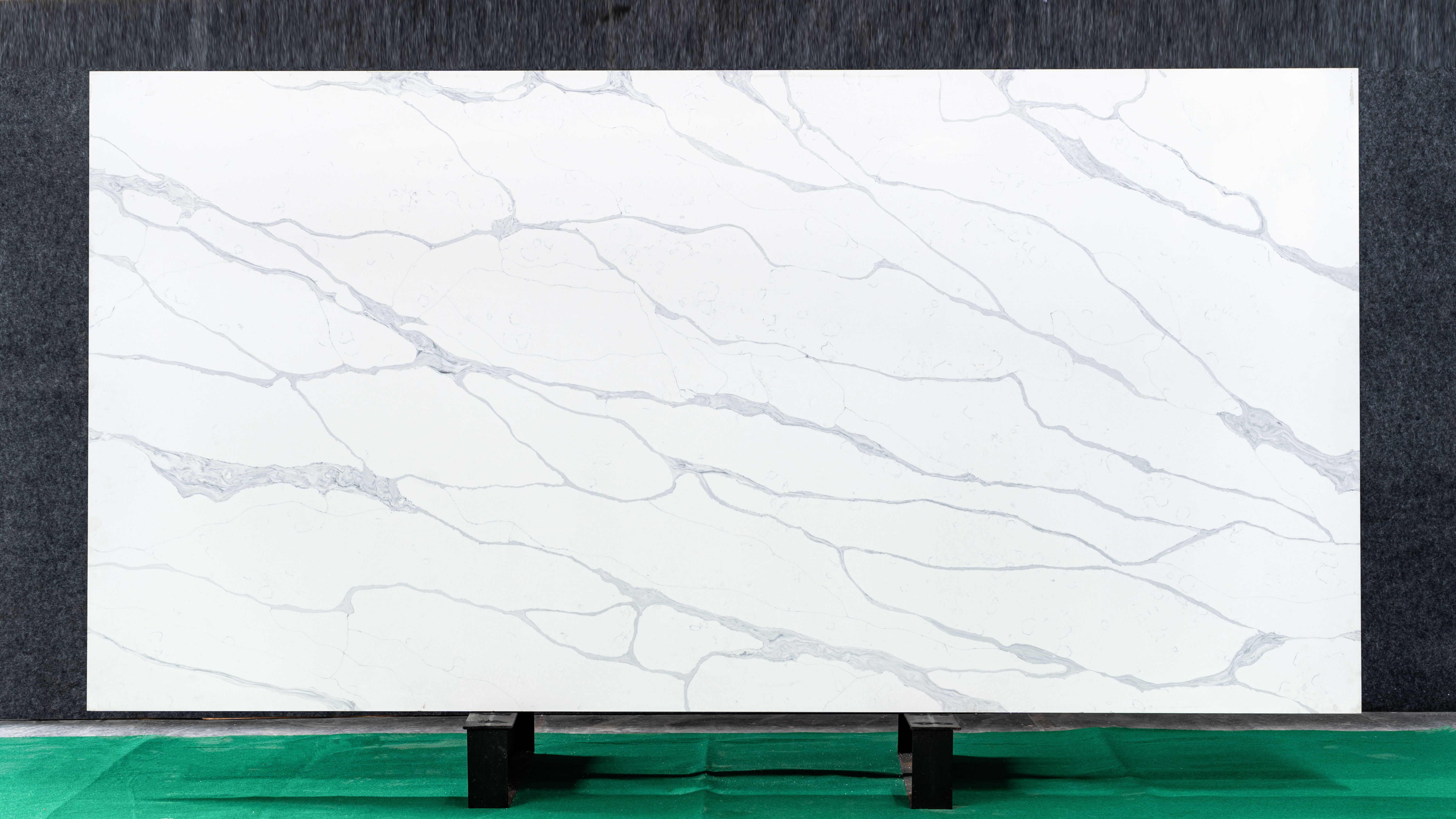 2. Specifications and advantages of Artificial Quartz Stone Slabs QSY161
Quartz content

>93%

Color

Customizable

Delivery Time

2-3 weeks after payment received

Glossiness

>40 Degree

Payment

1) 30% T/T advance payment and balance 70% T/T before container loaded.

2) Other payment terms are available after negotiation.

Quality Control

Thickness tolerance(length, width, thickness): +/-0.5mm

QC check pieces by pieces strictly before packing

Advantages

1.High hardness: The hardness Mohs of the surface reaches at Level 6.

2. Low expansion coefficient.

3. High tensile and compressive strengths.

4. Corrosion resistance and acid & alkali resistance, and color will not fade off and strength stays same after a long period of time.

5. No absorbing of dirt and water. Cleaning is simple and convenient.

6. Reusable, safe for the environment, and non-radioactive.
3. Artificial Quartz Stone Slabs features
1. Selected domestic high-quality raw materials ;
2. Less than 0.1% water absorption, anti-fouling, anti-corrosion;
3. High melting point, not easy to burn;
4. Mohs hardness 6, not easy to scratch;
5. More than 30 production processes;
6. Impurity removal and purification during production, non-toxic and non-radiation.
4. Introduction of Artificial Quartz Stone Slabs Manufacturers
The quality and strength of GUANGDONG MINGSHANG NEW MATERIAL CO.,LTD for Artificial Quartz Stone Slabs have been recognized by many authoritative organizations at home and abroad.China's foreign trade export leading index sample enterprise, provincial famous brand enterprise, excellent enterprise of high-tech enterprises and high-quality products. MINGSHANG always adheres to the business philosophy of "integrity and quality", and provides thousands of quartz stone products for various consumers. Wholesale Artificial Quartz Stone Slabs, choose MINGSHANG, your trust is our greatest motivation, thank you.
5. FAQ
1). What is artificial quartz stone?
Quartz Stone is a new type of green building material, which is made of more than 90% natural quartz crystal, unsaturated resin and other organic elements, formed by vacuum and high-frequency vibration, heated and solidified. Its texture is solid, its structure is dense, and it has incomparable wear resistance (Mohs hardness above grade 5), pressure resistance (density 2.0g/ cubic centimeter), high temperature resistance (temperature resistance 300 ℃), corrosion resistance, and anti penetration. It does not contain any pollution sources and radiation sources. It belongs to green environmental protection artificial stone.
2). Where is quartz stone used?
It is widely used in home decoration, engineering decoration and many other fields, such as kitchen counter tops, bathroom counter tops, bar table, tea table and other indoor applications.
3). Impermeable and corrosion resistant
Quartz stone is a dense, non porous composite material, which has good corrosion resistance to acid and alkali, so the liquid substances used daily will not penetrate into the interior, and can maintain the gloss of the surface for a long time. The liquid placed on the surface for a long time can only be wiped with clean water or Jie er liang detergent with a rag.
4). You are factory or trading company?
We are 100% factory.
5). What is your MOQ?
For regular sizes:30 slabs.
Customize size: one container.
Artificial Quartz Stone Slabs suppliers
Artificial Quartz Stone Slabs manufacturers
Artificial Quartz Stone Slabs Factory