Kitchen Countertops Black Calacatta Quartz Countertop
Customized Black Calacatta Quartz Countertop
China Black Calacatta Quartz Countertop suppliers
China Black Calacatta Quartz Countertop manufacturers
Black Calacatta Quartz Countertop (QSY-103)
1. Product Introduction of Black Calacatta Quartz Countertop (QSY-103)
The Black Calacatta Quartz Countertop (QSY-103) has several applications and uses. Black quartz countertops are now most commonly found in kitchens. Internal wall cladding, bathrooms, swimming pools, staircases, window sills, table tops, and many more alternatives might serve as further examples.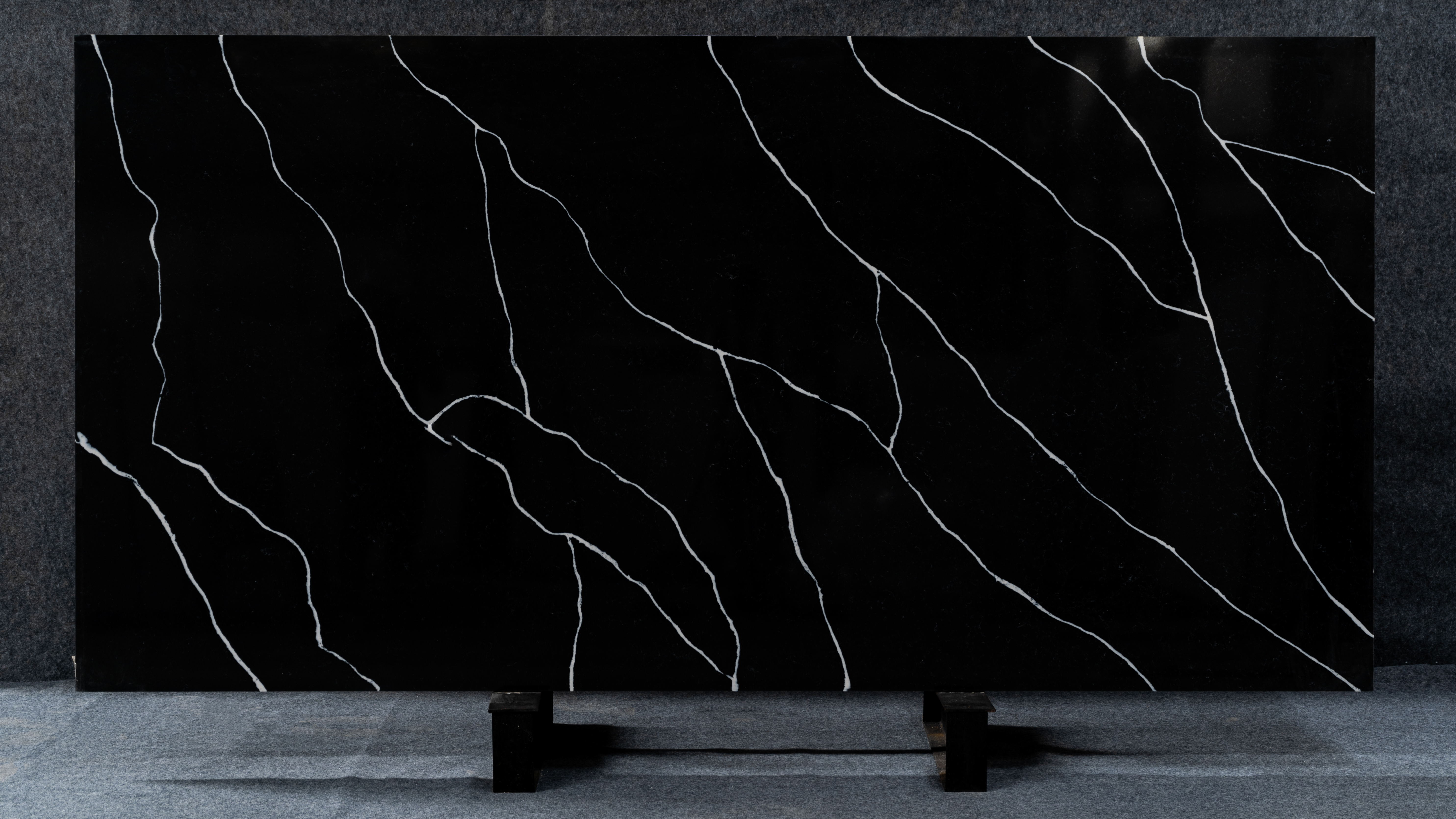 2. Product Parameter of Black Calacatta Quartz Countertop (QSY-103)
| | | | |
| --- | --- | --- | --- |
| Place of Orginal | YUNFU,CHINA | Scheme Function | Customized Patterns Design |
| Brand | MS, A MEI CHUANQI | Product Application | Kitchen counter tops, bathroom counter tops, bar table, tea table and other indoor applications |
| Category | Quartz Stone | Form | Slabs |
| Color | Customized | Thickness | 15/18/20/30mm |
| Raw Material | Natrual Quartz | Sizes | Customized |
| Surface | Polished | Product Edge | Straight unpolished edge |
| Certification | CE, SGS, ISO | Quart Stone Characteristic | Hard, Abrasion Resistant, Stain Resistant |
3. Product features of Black Calacatta Quartz Countertop (QSY-103)
The following are some characteristics of the Black Calacatta Quartz Countertop (QSY-103):
The consistency of aesthetics is unafraid of stains; it has mechanical resistance; High temperature and chemical resistance; Durable and resistant to abrasion; it has elegant look; various colors and designs are available; A wide range of sizes, simple handling, it is a kind of versatile construction material.
Black Calacatta Quartz Countertop (QSY-103) is a durable, classy, and incredibly high-quality product with an enviable look and flawless finishing that provides endless design options. It is the best option for flooring and worktops in bathrooms and kitchens, as well as for high traffic areas.
4. Company strengths
MINGSHANG is situated in Yunfu City, the famous stone base and artificial stone capital of China. It is a high-tech artificial stone company that combines scientific research, manufacturing, and sales.Its primary products, quartz stone, artificial marble, and terrazzo are marketed all over the world. The company has a sizable modern workshop of 130,000 square meters, four quartz stone production lines, four block type production lines, two machines for setting and polishing the thickness of quartz stone, 19 Italian Super Large BM fast gangsaw machines, and five automatic polishing machines. These facilities guarantee supply, production, and quality control of the demand of the global market and make it possible for the company to meet this demand. MINGSHANG NEW MATERIAL Factory is one of the most professional Black Calacatta Quartz Countertop manufacturers in the world.We have been making exceptional quartz stone countertops. We are an ISO 9001 certified Black Calacatta Quartz Countertop supplier committed to provide the best possible service to our growing global customers. We have the advantages of quality and price to achieve a win-win cooperation model.
5. Main markets of Black Calacatta Quartz Countertop (QSY-103)
Main markets of Black Calacatta Quartz Countertop (QSY-103): North America, South America, Canada, Middle East, Southeast Asia.
6. FAQ
1) Is quartz Stone harmful to human body?
Through national authorized testing institutes, all of the product's performance indicators have met or exceeded international requirements, and its usage is unrestricted and safe for humans.
2) What are the quartz stone application?
It is applied in a wide range of interior applications, including bar tables, tea tables, kitchen counter tops, bathroom counter tops, and engineering decorations.
3) Why should we choose quartz stone above other types of stone?
Quartz stone offers several benefits over other stone, including high density, high hardness, minimum water absorption, good durability, low maintenance requirements, good color consistency, and others. Additionally,different colors and patterns can be customized.
4) The color of quartz countertops
The newest dark countertop material trend is black quartz kitchen countertops, which offer a resilient, easy-to-maintain option that is ideal for a hectic lifestyle. Quartz manufacturers provide a wide variety of stunning black quartz alternatives because they recognize the allure of black quartz surfaces.
5) Does black quartz fade?
For longer periods of time, quartz countertops made for indoor usage might fade, but this usually only occurs when such worktops are used outside.
Black Calacatta Quartz Countertop
Black Calacatta Quartz Countertop suppliers
Black Calacatta Quartz Countertop manufacturers