High Density Quartz Stone Polished Surface Calacatta Quartz Stone Factory
High Density Quartz Stone Polished Surface Calacatta Quartz Stone manufacturers
High Density Quartz Stone Polished Surface Calacatta Quartz Stone suppliers
High Density Quartz Stone Polished Surface Calacatta Quartz Stone Factory


1. Product introduction of High Density Quartz Stone Polished Surface Calacatta Quartz Stone QSY114
High Density Quartz Stone Polished Surface Calacatta Quartz Stone, usually what we call quartz stone is a new type of stone that is artificially synthesized by more than 90% of quartz crystals plus resin and other elements. It is a large-sized slab pressed by a special machine under certain physical and chemical conditions, and its main material is quartz stone. Quartz stone has a quartz content of up to 93%. Quartz crystal is a natural mineral whose hardness is second only to diamond in nature. Its surface hardness can be as high as 7.5 on the Mohs scale, which is much larger than sharp tools such as knives and shovels used in the kitchen, and will not be scratched by it.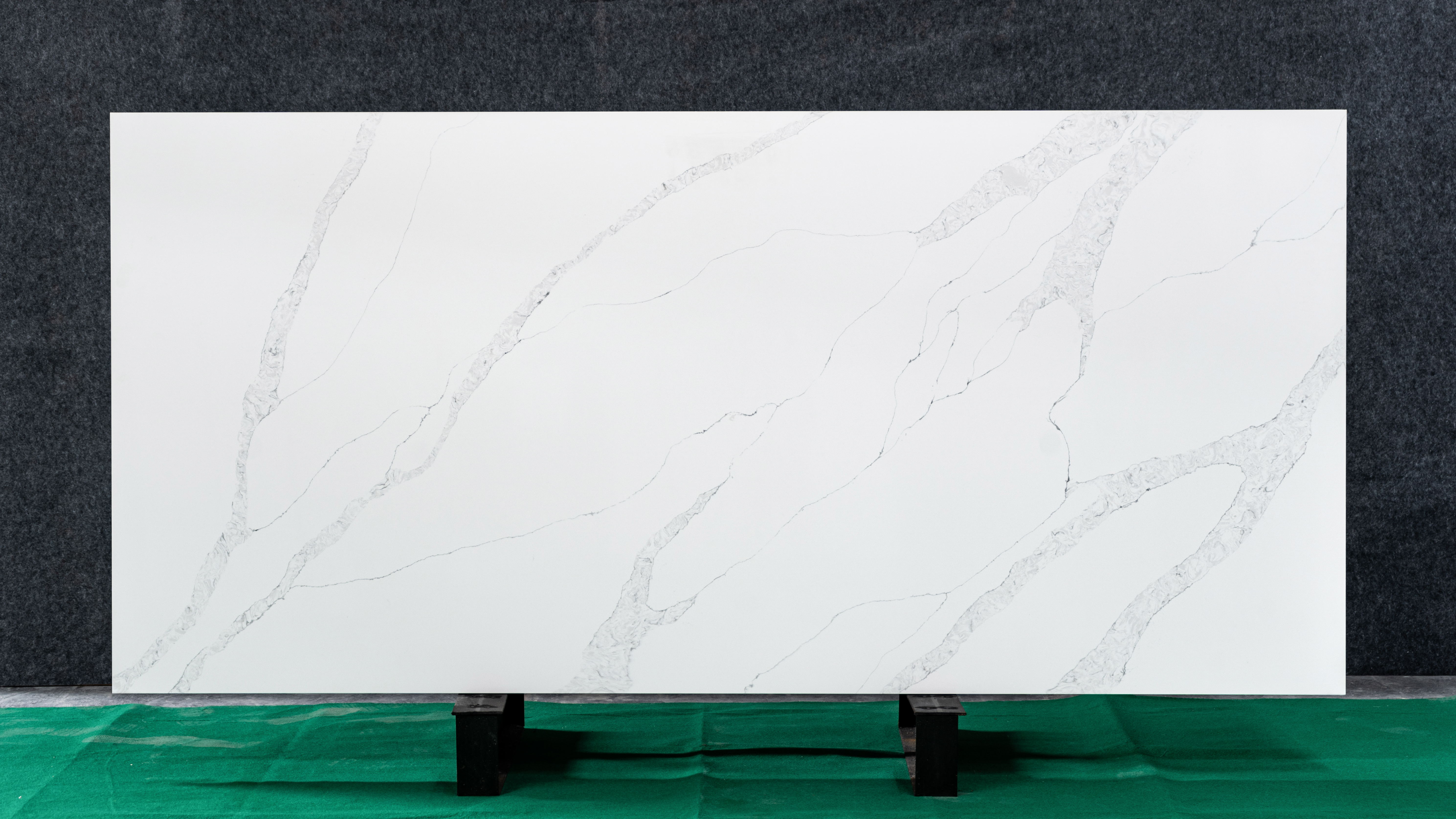 2. Specifications of High Density Quartz Stone Polished Surface Calacatta Quartz Stone (QSY-114)
Quartz content

>93%

Color

Customizable

Delivery Time

2-3 weeks after payment received

Glossiness

>40 Degree

Payment

1) 30% T/T advance payment and balance 70% T/T before container loaded.

2) Other payment terms are available after negotiation.

Quality Control

Thickness tolerance(length, width, thickness): +/-0.5mm

QC check pieces by pieces strictly before packing

Advantages

1. High hardness: The hardness Mohs of the surface reaches at Level 6.

2. Low expansion coefficient.

3. High tensile and compressive strengths.

4. Corrosion resistance and acid & alkali resistance, and color will not fade off and strength stays same after a long period of time.

5. No absorbing of dirt and water. Cleaning is simple and convenient.

6. Reusable, safe for the environment, and non-radioactive.
3. High Density Quartz Stone Polished Surface Calacatta Quartz Stone Material Properties
1). The quartz content of scratch-free quartz stone is as high as 93%. Quartz crystal is the second natural mineral in medium hardness,which can be as high as 7.5.
2). The non-polluting quartz stone is made under vacuum conditions with the same surface and inside, dense and non-porous. Its quartz surface has excellent corrosion resistance to the acid and alkali in the kitchen. The liquid placed on the surface only needs to be wiped off with a rag such as clean water or cleanser, and the residue on the surface can be scraped off with a blade if necessary.
3). The glossy surface of the old quartz stone has undergone more than 30 complicated polishing processes, which will not be scratched by the knife and shovel, will not be penetrated by liquid substances, and will not cause problems such as yellowing and discoloration. Daily cleaning Simply rinse with clean water, simple and easy. Even after a long period of use, its surface is as bright as a new countertop, requiring no maintenance and maintenance.
4). Natural quartz crystals that do not burn are typical refractory materials, which are as high as 1300 degrees or more. Quartz stone made of 94% English is completely flame-retardant and will not burn due to exposure to high temperature. It also has artificial stone and other countertops that cannot be compared. High temperature resistance.
5). The surface of non-toxic and non-radiation quartz stone is smooth, flat and no scratches remain. The dense and non-porous material structure makes bacteria nowhere to hide, and can be in direct contact with food, safe and non-toxic!
The high-quality quartz stone is made of selected natural quartz crystal minerals, whose SiO2 content exceeds 99.9%, and is purified by removing impurities during the manufacturing process. The raw materials do not contain any heavy metal impurities that may cause radiation, 93% of quartz crystals and other The additives make the quartz stone free from the danger of radiation contamination.
4. Application of High Density Quartz Stone Polished Surface Calacatta Quartz Stone
Quartz stone countertops have various colors, calacatta series,carrara series, crystal series, granite series, and pure color series are more distinctive, and can be widely used in public buildings (hotels, restaurants, banks, hospitals, exhibitions, laboratories, etc.) and home decoration (kitchen countertops, It is a non-radioactive pollution, reusable, environmentally friendly and green new building interior decoration material.
5. Company Introduction
High Density Quartz Stone Polished Surface Calacatta Quartz Stone Factory Guangdong Mingshang New Material Co., Ltd. is located in Yunfu City, the world-famous center of China's stone base and the capital of artificial stone. It is a high-tech enterprise of artificial stone integrating scientific research, production and sales; Its main products quartz stone, artificial marble, terrazzo are sold all over the world. The company has a large modern workshop of 130,000 square meters, four quartz stone production lines, four block type production lines, with an annual production capacity of 6 million square meters, two quartz stone thickness setting and polishing machines, 19 Italian Super Large BM fast gangsaw machines, and five automatic polishing machines, which provide a guarantee and solid platform for the supply, production, and quality control of the global market demand, and make full preparations for the future sustainable development.
The company's products are strictly managed from product research and development, raw material selecting, blocks molding, sawing, grinding, polishing and other processes to keep improving; All performance indicators of the product have reached or exceeded the national standards through the national authoritative testing institutions, and the scope of use is unlimited. Our products are more widely used in home decoration, real estate, star hotels, hotels, commercial buildings, office buildings, ports, airports, stations, subways and other projects. We are currently a large-scale artificial stone manufacturer at home and abroad. MINGSHANG NEW MATERIAL Factory is a professional High Density Quartz Stone Polished Surface Calacatta Quartz Stone manufacturer, supplier, providing satisfactory service for our products. At the same time we have other more high-quality products, including: Carrara Quartz Slab, Quartz stone countertops. To learn more about High Density Quartz Stone Polished Surface Calacatta Quartz Stone, contact us.
6. FAQ
1). What is artificial quartz stone?
Quartz Stone is a new type of green building material, which is made of more than 90% natural quartz crystal, unsaturated resin and other organic elements, formed by vacuum and high-frequency vibration, heated and solidified. Its texture is solid, its structure is dense, and it has incomparable wear resistance (Mohs hardness above grade 5), pressure resistance (density 2.0g/ cubic centimeter), high temperature resistance (temperature resistance 300 ℃), corrosion resistance, and anti penetration. It does not contain any pollution sources and radiation sources. It belongs to green environmental protection artificial stone.
2). Is quartz Stone harmful to human body?
All performance indicators of the product have reached or exceeded international standards through national authoritative testing institutions, and the scope of use is unlimited, which is not harmful to human body.
3). Why should we use quartz stone instead of natural stone?
Compared with natural stone, quartz stone has the advantages of high density, high hardness, low water absorption, good durability, less maintenance, good color consistency and so on. And it can be also customized colors with unique designs.
4). You are factory or trading company?
We are 100% factory.
5). Is it possible to do OEM ?
Yes,we can offer OEM service by printing customers' Logo or company name on the back/side of quartz stone slabs.
6). What is your MOQ?
For regular sizes:30 slabs.
Customize size: one container.
High Density Quartz Stone
Polished Surface Calacatta Quartz Stone
High Density Quartz Stone manufacturers
High Density Quartz Stone suppliers