Wholesale High Quality White background gray texture quartz marble countertop
Wholesale artificial quartz slate kitchen countertop
High Quality White background gray texture quartz marble countertop artificial quartz slate kitchen countertop suppliers
High Quality White background gray texture quartz marble countertop artificial quartz slate kitchen countertop manufacturers
High Quality White background gray texture quartz marble countertop artificial quartz slab kitchen countertop (QSY-145)
1. Product introduction of High Quality White background gray texture quartz marble countertop artificial quartz slab kitchen countertop
A hue that never goes out of style is white. It is traditional, ageless, and works for just about any design job. It functions effectively on every surface or location you use it in, but it performs especially well on counters. Use them on your kitchen countertops to add a touch of elegance and make your space a refuge for cleanliness as you prepare meals, or use them in your bathroom to instantly feel cleaner.
The smooth exterior and additional elegance of quartz make white quartz countertops a smart choice for your kitchen. You can also benefit from quartz's stain and heat resistance so you won't have to worry about destroying its attractive appearance. High Quality White background gray texture quartz marble countertop artificial quartz slab kitchen countertop is a good choice for your kitchen since it is always fashionable and beautiful. You may attain clean aesthetics with their brilliant look and sleek finish, which can add contrast to any environment and improve its attractiveness.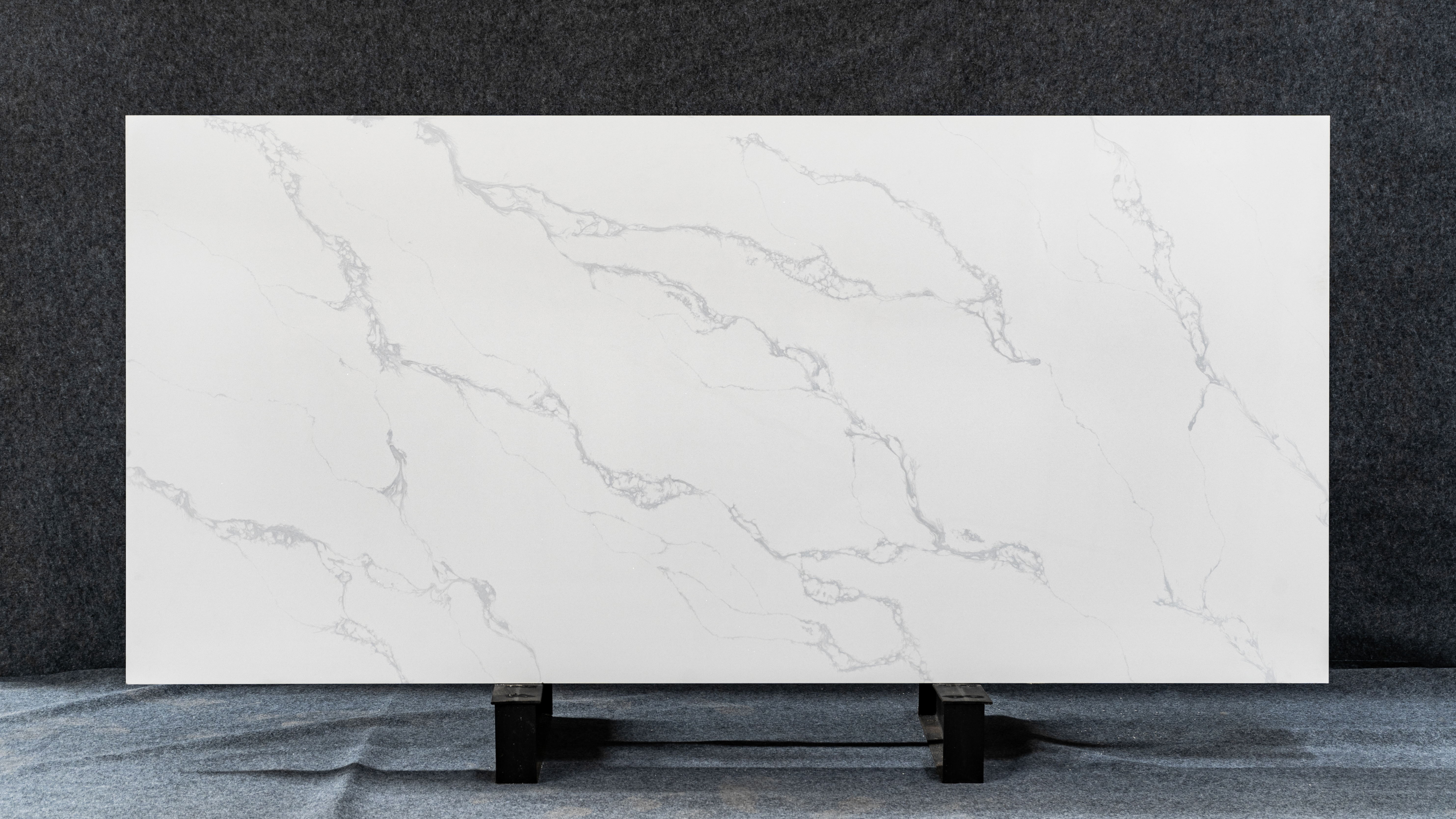 2. Product parameters of high quality white background gray texture quartz marble countertop artificial quartz slate kitchen countertop
| | |
| --- | --- |
| Description: | Calacatta Quartz stone with gray vein and shining mirror |
| Product code: | QSY-145 |
| Ingredients: | 93% natural quartz powder, 7% polymer resin |
| Hardness: | 6 Mohs |
| Density: | 2.3~2.5g/cm3 |
| Slab sizes: | 3200*1600mm(126" * 63"),3000*1400mm(118" * 55"),or other sizes as required |
| Thickness: | 15mm,18mm,20mm,25mm.30mm |
| Surface finishing: | Polished, Honed, or others as required |
| Packing: | Wooden pallets for slabs, wooden crates for cut to size |
| Main Market: | North America, South America, Canada, the Middle East, Southeast Asia |
| Application: | Indoor decoration |
| Features: | Resistant to Stain, Heat & Corrosion |
3. Company strengths
MINGSHANG NEW MATERIAL Factory is a unique White background gray texture quartz marble countertop supplier and manufacturer. We are one of the world leaders in White background gray texture quartz marble countertop. We provide a complete set of services from design, research and development to after-sales. Guangdong Mingshang New Material Co., Ltd. is located in Yunfu City, the world-famous center of China's stone base and the capital of artificial stone. Our company is an artificial stone high-tech enterprise, we are good at integrating scientific research, production and sales. Our main products such as quartz stone, artificial marble and terrazzo are sold all over the world.
Our company has a large modern workshop of 130,000 square meters, 4 quartz stone production lines, 4 block types production lines, with an annual production capacity of 6 million square meters, 2 quartz stone thickness determination and polishing all-in-one machines, 19 Italian super large BM quick gangsaws, and 5 automatic polishing machines. Therefore, we have enough strength to supply the global market, and we implement strict quality control to prepare for sustainable development.
All the performance indicators of our products have passed the national authoritative testing institutions, and all meet or exceed the national standards, and the scope of use is not limited. Our company is a large-scale artificial stone manufacturer at home and abroad. For more information about our quality products, you can email us to know more, thank you.
4. Main markets of high quality white background gray texture quartz marble countertop artificial quartz slate kitchen countertop
North America, South America, Canada, Middle East, Southeast Asia
5. FAQ
1) Are white quartz countertops a good idea?
You can never go wrong with clean white in terms of aesthetics. They are certain to be sturdy and long-lasting because they are also made of natural stone. These countertops will also have excellent stain and etch resistance.
2) Will white quartz countertops get yellow over time?
Because of the cleaners used, your white or light-colored counters may become discolored over time. This results from the salts and acids in surface cleaners building up over time and from how frequently you expose to them. If the surfaces are not thoroughly cleaned with a neutral cleaner for stone, yellow stains may also form. Additionally, this should be completed at least once every week.
3) How to clean the white quartz countertops
Since quartz stone is a composite material that is solid and non-porous and has strong corrosion resistance to acid and alkali, liquids used on a daily basis won't seep into the interior and the surface may be kept looking beautiful for a very long time. Long-lasting liquids simply need to be removed by wiping them off with a clean cloth dampened with water or a cleaning solution like clean and bright.
4) Which quartz has the whitest background?
Of all the Calacatta varieties, Calacatta ultra quartz has one of the purest white backgrounds. The subtle, gentle linear veining in calacatta quartz is utterly timeless.
5) Is quartz going out of style?
Quartz stone is now available in a wide range of hues, patterns, and finishing methods that resemble the appearance of natural stone. The matt finish is one of the most popular and fashionable ones right now. Quartz makers will continue to astound us in 2022 with production advances to keep this countertop option at the top.
High Quality White background gray texture quartz marble countertop suppliers
artificial quartz slate kitchen countertop manufacturers
High Quality White background gray texture quartz marble countertop artificial quartz slate kitchen countertop factory