China Quartz stone countertop kitchen island manufacturers
China Quartz stone countertop kitchen island suppliers
China Quartz stone countertop kitchen island factory
1. Quartz stone countertop kitchen island(QSY-163) Product introduction:
MINGSHANG NEW MATERIAL Factory is a Quartz stone countertop kitchen island manufacturer. Quartz stone countertop kitchen island, refers to the countertop made of quartz stone. Quartz countertops are made from crushed glass and quartz sand. The advantage of quartz stone is that it is wear-resistant and not afraid of scratches. Quartz stone is a new type of stone that is artificially synthesized by more than 90% of quartz crystals plus resin and other elements.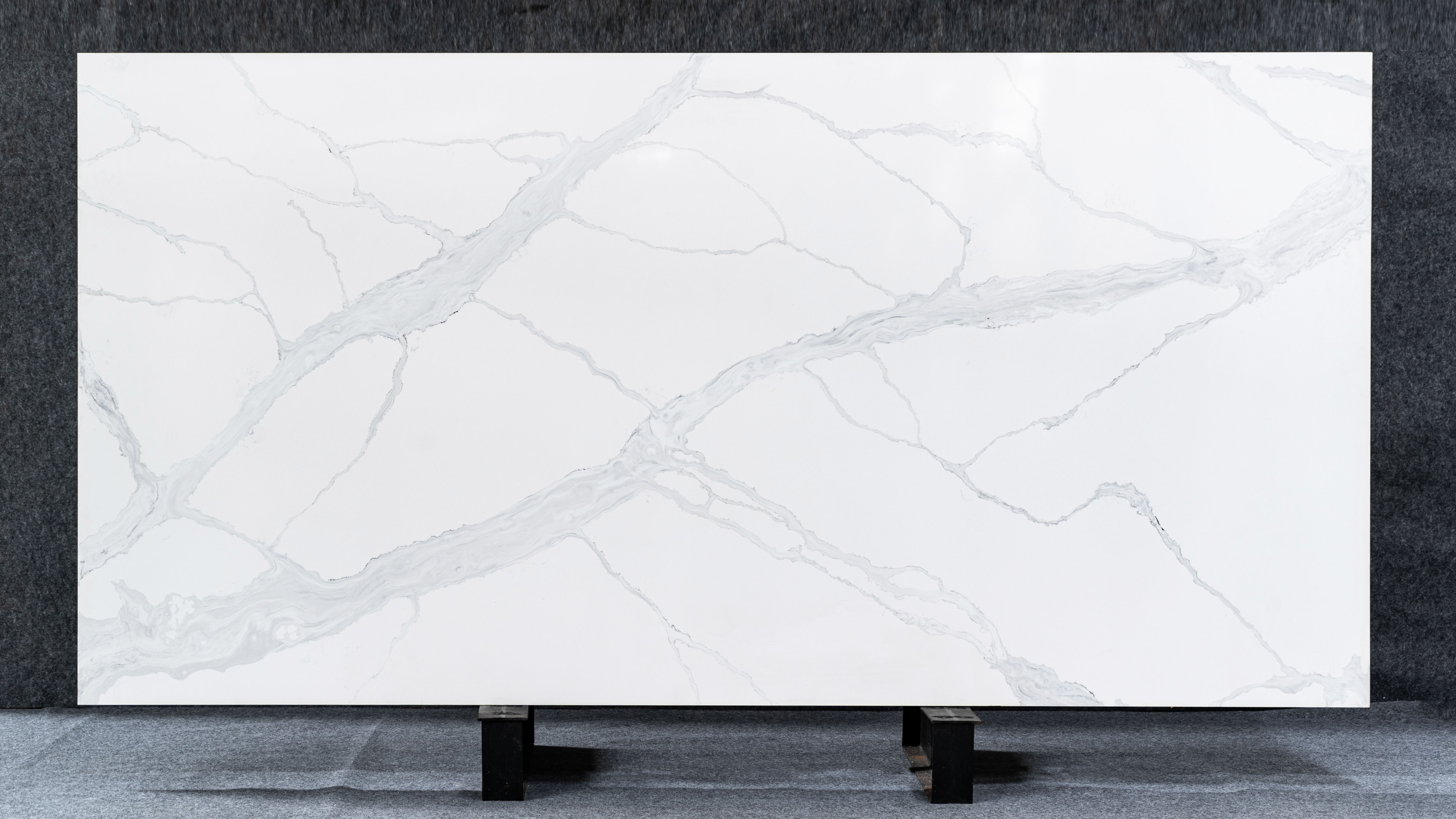 Quartz stone is mainly made of quartz, and its multi-color makes it have a natural stone-like texture and a beautiful luster. Quartz stone countertops are rich in color. Calacatta series,Carrara Series, crystal series, granite series and mirror series products have unique characteristics and can be widely used in public buildings (hotels, restaurants, banks, hospitals, exhibitions, laboratories), home decoration (kitchens) It is a non-radioactive pollution, reusable, environmentally friendly and green new building interior decoration material.
The quality of quartz stone has a great relationship with the content of resin. The higher the content of quartz in the quartz stone, the less the amount of resin, the better the quality, the more natural, and the less easily deformed.
2. Product features of Quartz stone countertop kitchen island QSY163
Quartz stone countertop kitchen island has: wear resistance, pressure resistance, high temperature resistance, scratch resistance, corrosion resistance, penetration resistance, aging resistance, no radiation.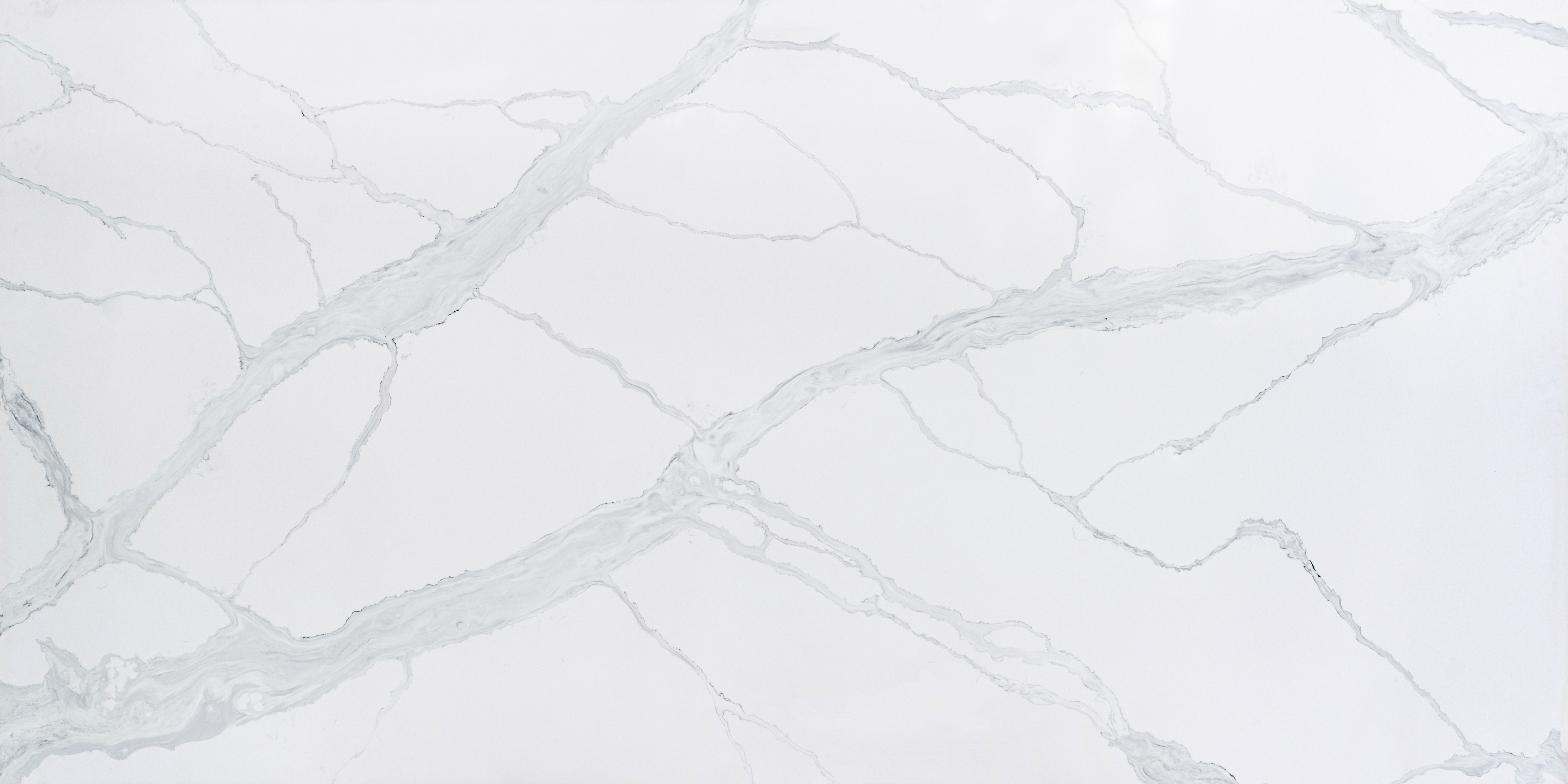 3. Quartz stone countertop kitchen island QSY163 Product advantages:
As a new type of artificial stone product, the application field of quartz slab is also expanding, and it has been applied to the floors, walls, art shapes and countertops in hotels, guesthouses, villas and home decoration. Why can quartz stone quickly occupy the decoration market, and what advantages does it have?
1). Not easy to scratch
Quartz slab has a quartz content of up to 93%. Quartz crystal is a natural mineral whose hardness is second only to diamond in nature. Its surface hardness can be as high as 7 on the Mohs scale, which is far greater than that of sharp tools such as knives and shovels used in the kitchen, and will not be scratched by it.
2). No pollution
Quartz slab is a dense and non-porous composite material manufactured under vacuum conditions. Its quartz surface has anti-corrosion ability to acid and alkali in the kitchen. Liquid substances used in daily use will not penetrate into its interior, and it will be placed on the surface for a long time. The liquid can be wiped off with a rag with clean water or a cleaning agent such as clean and bright, and the residue on the surface can be scraped off with a blade if necessary.
3). Not old
The shiny new surface of the quartz slab countertop has undergone more than 30 complex treatment processes, which will not be scratched by the knife and shovel, will not be penetrated by liquid substances, and will not produce yellowing and discoloration. Just rinse with fresh water, simple and easy. Even after a long period of continuous use, the surface is as bright as a new countertop, requiring no maintenance and upkeep.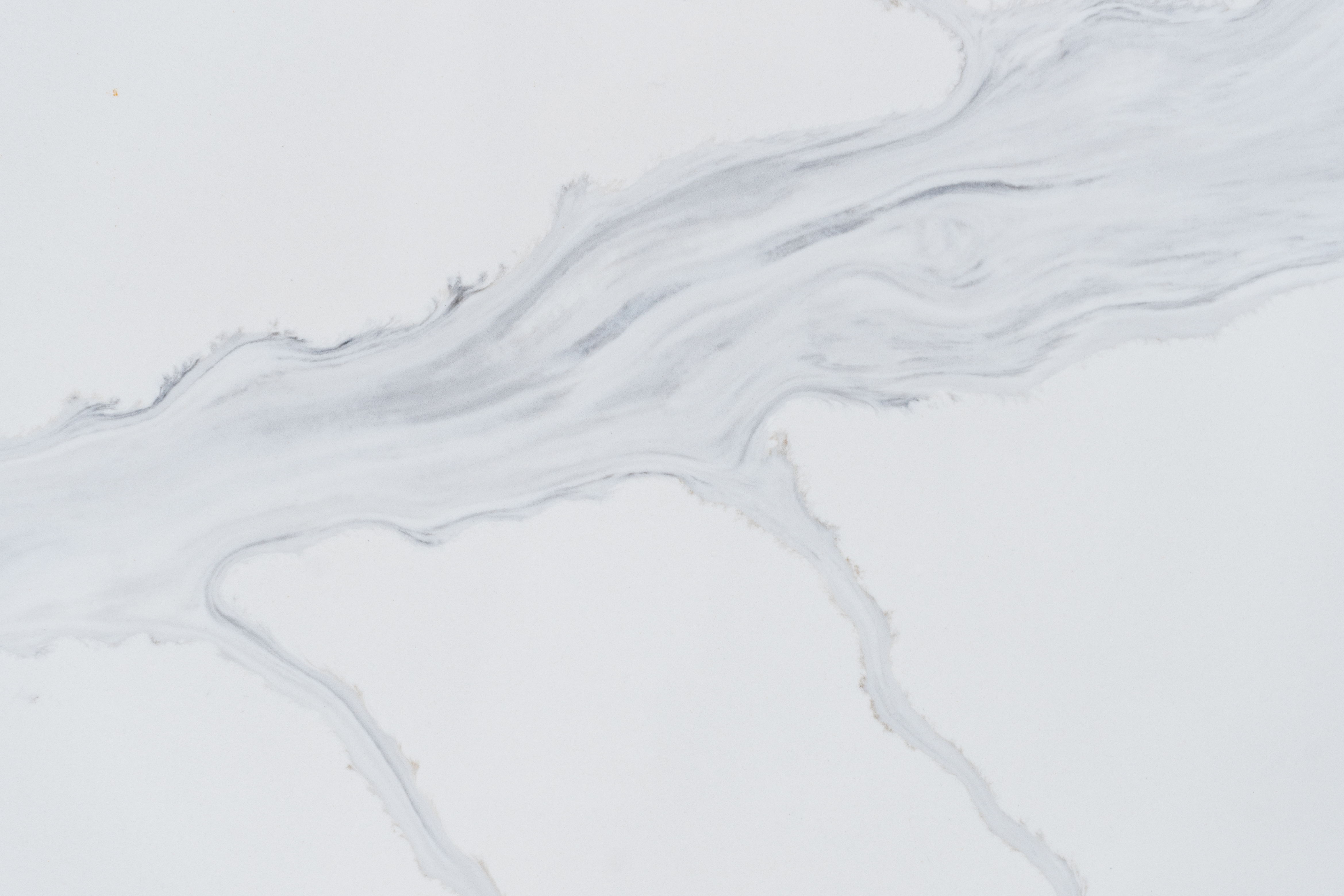 4. Product Specifications of Quartz stone countertop kitchen island QSY163
Quartz content

>93%

Color

White with gray vein

Delivery Time

2-3 weeks after received advance payment

Glossiness

>40Degree

Payment

1) 30% T/T advance payment and balance 70% T/T before container loaded.

2) Other payment terms are available after negotiation.

Quality Control

Thickness tolerance(length, width, thickness): +/-0.5mm

QC check pieces by pieces strictly before packing

Advantages

1. High hardness: The hardness Mohs of the surface reaches at Level 6.

2. High compressive strength,high tensile strength. No white off, no deformation and no crack. The special feature makes it widely used in the floor laying.

3. Low expansion coefficient.

4. Corrosion resistance and acid & alkali resistance, and color will not fade off and strength stays same after a long period of time.

5. No water and dirt absorption. It is easy and convenient to be cleaned.

6. Non-radioactive, environmental friendly and reusable.
5. Precautions for use of Quartz stone countertop kitchen island QSY163:
Although quartz slab as a professional countertop material has comprehensive advantages unmatched by other materials, any index is relative, and no material can withstand destructive use. You should pay attention to the following matters when using it, and try to protect your Valuable countertops, avoid damage to the countertops due to improper use.
1). Sharp objects may cause damage to the surface and the material itself. Quartz slab is a brittle and high-hardness composite material, which has high impact and scratch resistance, and will not be scratched or worn under normal use. If there are sticky substances such as rubber, nail polish, paint, etc. that are particularly difficult to remove on the countertop, use a knife to gently scrape it off if necessary. Control the force when scraping to avoid damage to the countertop. In particular, it is necessary to avoid strong scratching of the countertop with ultra-hard sharps, such as diamonds, sandpaper, broken glass, broken ceramics (including sintered particles that may exist at the bottom of inferior ceramic utensils), high-hardness alloy knives, and high-hardness tools etc.
2). After the quartz slab countertop is used, if the density of the detergent is too high during cleaning, please clean it with clean water. If necessary, use a knife shovel to scrape off the residue on the surface. After use, it can be washed with soapy water, and then wiped with a dry cloth to avoid leaving scale.
6. Quartz stone countertop kitchen island QSY163 company introduction:
MINGSHANG Quartz stone factory is a professional manufacturer and supplier of all kinds of Quartz stone countertop and Quartz stone kitchen island. The products are exported to dozens of foreign countries and regions. The company has an experienced professional R&D team and employs domestic and foreign experts to serve as Technical consultant, specializing in R&D and large-scale production of artificial marble, quartz stone, terrazzo series products. The annual production of various types of products can reach more than 6 million square meters, and it is currently one of the largest artificial stone manufacturer in China. Products include Carrara Quartz Slab, Quartz stone countertops and more. Our staff have extensive experience and the quality of Quartz stone countertop kitchen island products is internationally certified. Welcome customers and friends to contact us to discuss cooperation.
The company adopts innovative technology to produce all kinds of artificial marble, quartz stone and terrazzo products, and has a number of fully automated production lines. The artificial marble, quartz stone and terrazzo series products produced are all made of natural crushed materials, the content of which is more than 90%, which retains the noble quality of natural stone, and has bright color, high gloss, compression and wear resistance, beautiful and environmentally friendly. , can be refurbished many times, etc., it is an internationally popular green and environmental friendly decoration material.
Know more about us, will help you more
lf you don't find the specification you need, please contact us freely. Any custom size can be made as per your specific requirements. We sincerely welcome every new potential client to contact us. We will not only supply you the right materials based on your required quality with competitive price, but also provide you excellent service via quick reaction with constructive solutions. Our efforts and your support brings the win-win business, which makes both you and us go further.
Provide technical support free all-life of the products.
Keep all-life contacting with clients, get feedback on use of the products and make the products quality continually perfected.
About Packing ( 20"ft container)
| | | | | | | |
| --- | --- | --- | --- | --- | --- | --- |
| SIZE | THICKNESS(mm) | PCS | BUNDLES | N.W(KGS) | G.W(KGS) | SQM |
| 3200x1600mm | 20 | 105 | 7 | 24460 | 24930 | 537.6 |
| 3200x1600mm | 30 | 70 | 7 | 24460 | 24930 | 358.4 |
8. FAQ
1). What is Quartz Stone?
Quartz stone is a new type of stone that is artificially synthesized by more than 90% of quartz crystals plus resin and other trace elements. It is a large-sized slab pressed by a special machine under certain physical and chemical conditions, and its main material is quartz.
2). What special shapes can artificial quartz stone do?
Artificial quartz stone processing technology is very mature, it can be made in various shapes, such as: lines, countertops, pillars, artwork shapes and so on. With all kinds of artistry, it lights up the grade and artistic atmosphere of life decoration supplies and buildings.
3). How high can quartz stone withstand high temperature?
Quartz stone slab is composed of more than 93% natural quartz and about 7% colorant, resin and other additives for adjusting bonding and curing. Artificial quartz stone is formed by negative pressure vacuum, high frequency oscillation, heating and curing, its texture is firm, its structure is compact, and it has wear resistance (Mohs hardness above 6) and pressure resistance (density 2.0g/cubic) unmatched by other decoration materials. cm), high temperature resistance (up to 300 ℃), anti-corrosion, anti-penetration without any pollution source and radiation source, belonging to the green artificial stone.
4). The difference between artificial stone and marble
Artificial stone is more wear-resistant, acid-resistant, high-temperature resistant, and has strong impact resistance, compression resistance, bending resistance, and penetration resistance. Its deformation, bonding, turning and other parts are unique; because there are no pores on the surface, oil stains and water stains are not easy to penetrate, so the stain resistance is strong; it can be seamlessly bonded at any length, and the adhesive of the same material will.After the block is bonded, it is polished and integrated. Marble countertops: The length of natural stone cannot be too long, and it is impossible to make a full-length countertop, which is not suitable for modern seeking for a full-scale countertop.
Quartz stone countertop kitchen island manufacturers
Quartz stone countertop kitchen island suppliers
Quartz stone countertop kitchen island factory