Wholesale The Popular Calacatta Quartz Stone Kitchen Island
The Popular Calacatta Quartz Stone Kitchen Island suppliers
The Popular Calacatta Quartz Stone Kitchen Island manufacturers
The Popular Calacatta Quartz Stone Kitchen Island factory
The Popular Calacatta Quartz Stone Kitchen Island (QSY-106)
1. Product introduction of The Popular Calacatta Quartz Stone Kitchen Island (QSY-106)
The Popular KCalacatta Quartz Stone Kitchen Island add a little extra storage and work space to your kitchen with this elegant and practical mobile kitchen island. This premium Quartz Stone Kitchen Island supports customization and has a clean and elegant look. The easy-to-clean Quartz Stone Kitchen Island gives you extra elbow room as you prepare, serve and store.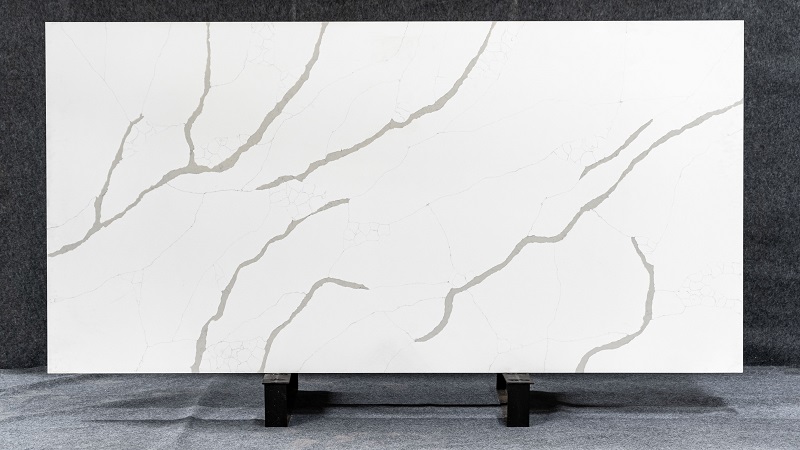 2. Product Specifications of The Popular Calacatta Quartz Stone Kitchen Island (QSY-106)
| | | | |
| --- | --- | --- | --- |
| Place of Orginal | YUNFU,CHINA | Scheme Function | Customized Patterns Design |
| Brand | MS,A MEI CHUANQI | Product Application | Kitchen counter tops, bathroom counter tops, bar table, tea table and other indoor applications |
| Category | Quartz Stone | Form | Slabs |
| Color | Customized | Thickness | 15/18/20/30mm |
| Raw Material | Natrual Quartz etc. | Sizes | Customized |
| Surface | Polished | Product Edge | Straight unpolished edge |
3. Matters needing attention when using quartz stone
1). Put high temperature items on the surface directly or for a long time
Hot pots or other utensils that are too hot directly from the stove or oven, microwave ovens, etc. may cause damage to the quartz stone. Please use a pot stand with rubber feet, or place a thermal pad on the countertop.
2). Use the countertop directly as a cutting board
When chopping vegetables, please put a cutting board on it. Although the quartz stone is firm and durable, doing so for a long time will leave scratches on the surface of the stone.
3). If it is not cleaned in time after use, it is believed that the water will not affect the board surface
Because the water contains a lot of bleach and scale, after staying for too long, the color of the countertop will change and affect the appearance.
4). It is believed that quartz stone has high density, acid and alkali resistance, and chemical resistance.
Quartz stone has long-lasting damage resistance, but it is still necessary to avoid contact with harsh chemicals such as paint removers, metal cleaners, stove cleaners. Avoid contact with methylene chloride, acetone (nail polish remover), strong acid cleaners. In case of accidental contact with the above items, immediately rinse the quartz stone surface with plenty of soapy water. If stained with nail polish, please use an acetone-free cleaning agent (such as Tianna water, alcohol), and then rinse with water. Do not let heavy or sharp objects hit the surface directly.Do not scald with boiling water immediately after rinsing with cold water.
4. Why choose us?
MINGSHANG NEW MATERIAL Factory provides various services to many different industries. Especially the Popular Calacatta Quartz Stone Kitchen Island, good quality and affordable price, get a lot of customer approval, wholesale of The Popular Calacatta Quartz Stone Kitchen Island, we are your first choice manufacturer, contact us to get premium quality and lower price information. Guangdong MINGSHANG New Material Co., Ltd. is located in Yunfu City, the world-famous center of China's stone base and the capital of artificial stone. It is a high-tech enterprise integrating scientific research, production and sales. Its main products are quartz stone, artificial marble, terrazzo, etc. are sold all over the world. The company has a large modern workshop of 130,000 square meters, 4 quartz stone production lines, 4 block type production lines, with an annual production capacity of 6 million square meters, 2 quartz stone thickness determination and polishing all-in-one machines, 19 Italian super large BM quick gangsaws, and 5 automatic polishing machines to provide a guarantee and a solid platform for the supply, production and quality control of the global market demand, and to prepare for the sustainable development in the future.
The company's products are strictly managed from product research and development, raw material screening, square material forming, sawing, grinding, polishing and other processes, and the performance indicators of the products have passed the national authoritative testing institutions. All meet or exceed national standards. The scope is not limited. Its products are more widely used in home improvement, real estate, star-rated hotels, hotels, commercial buildings, office buildings, ports, airports, stations, subways and other projects. It is currently a large-scale artificial stone production enterprise at home and abroad.
China MINGSHANG is a leading Calacatta Quartz Stone Kitchen Island manufacturer and supplier, offering all kinds of Calacatta Quartz Slab, Quartz Slab Pure White & Super White, Quartz Slab with Crystal Mirror & Grain etc. Our Calacatta Quartz Stone Kitchen Island is made of high quality materials. Since the company's inception, our team at MINGSHANG has remained committed to serving our customers all over the world and building long-term relationships by providing the highest quality products and unparalleled service.
5. What are the advantages of quartz stone countertops
1). Non-toxic and non-radiation
Quartz stone contains natural stone crystalline mineral. It has been purified in the production process to eliminate harmful substances. The surface is smooth and flat, which can be in direct contact with food, non-toxic and non-radiation.
2). High temperature resistance
Natural quartz crystal is a very refractory material with a melting point of over 1300 degrees. Most quartz stones are completely flame retardant and will not burn due to exposure to high temperatures.
3). Long use time
Quartz stone countertops are not easy to be scratched or penetrated by liquid substances, so quartz stone has a long service life and is easy to clean daily. It only needs to be rinsed with water, and the countertop does not need maintenance, and it can also keep the surface bright. .
4). not easy to penetrate, anti-corrosion
Quartz stone is a dense and non-porous composite material, which has good corrosion resistance to acid and alkali, so the liquid substances used daily will not penetrate into the interior and can maintain the luster of the surface for a long time.
6. FAQ
7). You are factory or trading company?
We are 100% factory.
8). Is it possible to do OEM ?
Yes,we can offer OEM service by printing customers' Logo or company name on the back/side of quartz stone slabs.
9. What is your MOQ?
For regular sizes:30 slabs.
Customize size: one container.
10. What is your delivery time?
About 15-30 days after receive 30% deposit.
11. What is your payment terms?
T/T.30% deposit before processing,70% before container loading.
China The Popular Calacatta Quartz Stone Kitchen Island suppliers
China The Popular Calacatta Quartz Stone Kitchen Island manufacturers
China The Popular Calacatta Quartz Stone Kitchen Island factory